It's been almost four years since Barry Bonds eclipsed Hank Aaron's home run record, but little has changed for the Hall of Famer affectionately referred to as The Hammer.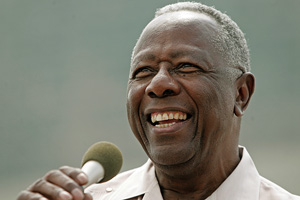 AP Photo/Morry GashHank Aaron doesn't look at today's salaries with envy, saying "I'm just grateful I had the opportunity to play when I did."
"I'm still the same guy," Aaron said. "Not much has been different."
While Aaron might not be the home run king anymore, he is still treated like baseball royalty.
Now a spokesman for Topps, Aaron says he's enjoying traveling around the country, visiting with old friends, and he even stopped by for a sit-down with David Letterman last week (see video below).
Aaron has been making the rounds as Topps marks its 60th anniversary, and the baseball card giant is celebrating by giving fans the chance to win vintage cards, diamond-embedded cards and even a diamond engagement ring. It sure beats the stale piece of gum that cards used to come with.
The Life caught up with Hammerin' Hank last week and touched on a variety of topics ranging from the toughest pitcher he faced to "Futurama." Yes, "Futurama."