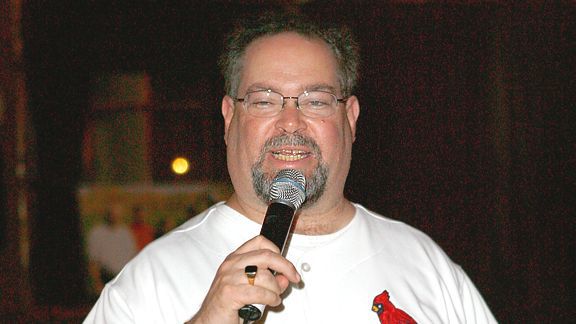 ESPN
LAKE BUENA VISTA, Fla. -- Envision all the wealth of sports knowledge you can imagine in one place. Then multiply it by 10, add an awesome beard and a bag of potato chips, and you have Howie Schwab, the Sultan of Sports Trivia, or as folks at ESPN headquarters like to call him, simply "The Schwab."
Schwab rose to sports notoriety in 2004 as the star of the trivia show Stump The Schwab but had humble beginnings as a know-it-all researcher at the World Wide Leader in Sports.
"Basically Mark Shapiro, who used to be at ESPN, called me into his office and [said], 'We are starting a new trivia show,'" Schwab said. "I said. 'That's great. I can work on that'. Then he says, 'It's called Stump the Schwab'. The abridged version of what I said in response was 'Are you bleeping serious?'"
From there, Schwab's persona grew to be a thing of folklore at ESPN.
"If you want to try and stump him my advice is to just surrender immediately," said Marcus Matthews, ESPN associate producer.
Although most think he is superhuman, the Schwab doesn't actually bleed box scores.
"I don't remember everything. I'll be the first person to tell you," Schwab said. "There are times where numbers pop out of my head. I'm not perfect. I laugh because people say, 'You know everything.' I say, 'No, I don't, but that's OK. Think whatever you want.'
"I have a target on my back everywhere I go. People say, 'Hey I can stump you, what shoe size was Ty Cobb in 19-something?'"