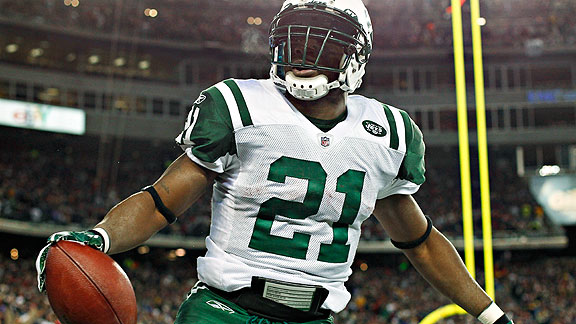 AP Photo/Winslow TownsonNow that it's the offseason, LaDainian Tomlinson said his sweet tooth is returning.
LAKE BUENA VISTA, Fla. -- LaDainian Tomlinson is a sculpted 5-foot 10, 215-pound specimen for the New York Jets.
Getting a body like that isn't easy, especially when you have a sweet tooth.
When the 31-year-old Tomlinson was coming into the league, he got the most valuable advice from Hall of Fame running back friend Barry Sanders.
"He taught me about eating well. A lot of vegetables. Staying away from fast food," said Tomlinson at ESPN the Weekend. "I was real bad with sweets -- candy, cookies, that was my thing. He said, 'You've got to get rid of that stuff.' I said, 'Barry, I can't!'
"And he said, 'Do this for me. Three days before the game, don't eat sweets.' And when I started doing that, I felt great. I bounced back after the games like he said I would. Offseason? As far as my diet, I'm pretty good about it, but if it's sweets, forget about it. It's the offseason. I can't help it."
So does rotund coach Rex Ryan help him out with staying on track during the season with good nutrition?
"He has a little bit, I've seen it," said Tomlinson, a five-time Pro Bowl selection. "He doesn't eat as much sweets. He still has his ice cream with the chocolate fudge. But he has done better."
Yep.