Cincinnati Bengals wide receiver Chad Ochocinco already has plans if there is an NFL lockout: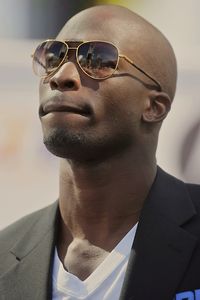 AP Photo/Damian DovarganesChad Ochocinco might be a little crazy if he wants to get into the ring with Anderson Silva.
He will challenge UFC middleweight champion Anderson Silva to a fight.
Yep.
"I'll whip his [expletive]," Ochocinco said at ESPN the Weekend in Orlando, Fla. "I'm not going to the ground. I know if I'm going to fight Anderson, I have to fight him standing up. I'm quicker than him. I know he's good at what he does, but let's not be fooled. I'm one of the elite athletes in the NFL. I'm very fast."
Is Ochocinco serious?
He's 6 foot 1 and 192 pounds, while Silva is 6 feet 2 and 185 pounds. So they have similar builds.
But Ochocinco has never fought, while Silva is 28-4, including winning a UFC-record 13 in a row.
"I just can't go to the ground," he said. "Maybe I can just run around the ring the whole damn time."
And a nickname?
"Wildman," he said. "I just create my own style. I'm crazy enough to get in there."