Tiki Barber is apparently headed back to the NFL for the 2011 season.
So for the first time, some fans have reason to root for a lockout.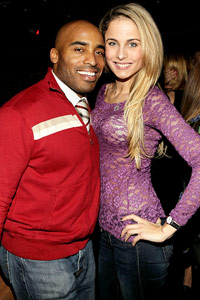 Getty ImagesTiki Barber hooked up with Traci Lynn Johnson, apparently costing him his NBC deal and possibly his long-term financial security.
There's no telling just why Barber would do this. But with an angry estranged wife and a fizzled television career, it might be that the Giants' all-time leading rusher needs money.
If that is the case, football is the wrong way to go. Barber needs to do something that would give him a chance to be a star, not a backup, and something with less risk of serious injury.
Tiki Barber needs to join the WWE.
Think about it. "Stone Cold" Steve Austin is back. The Rock is also back. It's like the early 2000s all over again, when Tiki was at his best. He would fit in perfectly.
Plus, has there ever been a more ready-made wrasslin' villain? At his best, Barber was a talented athlete who got results at the toughest position on the field. At his worst, he was smug and condescending. He's the real life Kurt Angle, just begging to be Rock Bottomed. Wrasslin' fans, like football fans, would love to see it.
Then there's that issue of the potential NFL lockout, which could disrupt the 2011 season. The WWE, on the other hand, is more regular than the mailman. Tiki could be certain that he'd make a little change, no matter what happens in mediation. So unless Tiki is coming back for the love of the game -- HA! -- then he should opt for the steady check.
So really, Tiki: Don't hurt yourself. Just be yourself in the squared circle. The rest will take care of itself.