Cal Ripken Jr. says when he was about 12, good sports books for preteen boys were few. Ripken was a little frustrated by that problem, and four decades later the already best-selling author is part of the solution.
The former Baltimore Orioles superstar shortstop and third baseman, now 50, had a book-signing at ESPN the Weekend for his latest work, the young-adult novel "Hothead." The book, written with Baltimore Sun columnist Kevin Cowherd, is the first of a three-part series about a baseball team full of kids who learn to deal with life issues as well as on-the-field situations.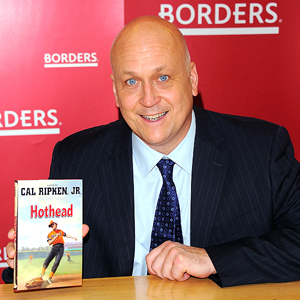 Andrew H. Walker/Getty ImagesCal Ripken Jr. says "Hothead" was partially inspired by his temper issues as a youth baseball player.
"The kids' book is a fascinating one," said Ripken, who has authored business, sports parenting and instructional books. "Because it gives you an opportunity to communicate social issues, values and principles, ways to handle a situation whether you're a coach, a parent or a member of the team."
"Hothead" features main character Connor Sullivan, whom Ripken says is loosely based on him. The 19-time All Star, who played for 17 seasons in a record 2,632 consecutive major league games, admitted he had issues with his temper when he was younger.
"My parents had a nice way, especially my mom, to start to figure out how you dealt with that temper," said Ripken, adding that his frustrations manifested in throwing fits, bats and sometimes fists. "I was pretty good at everything that I did, so when I did fail I wasn't emotionally stable enough to deal with those things."
The book's premise is a little more complicated, as Connor has to cope with the underlying problem of his father losing his job. With his mom's encouragement and support, he learns to turn negative energy into something positive -- push-ups, long runs and extra time in the batting cage -- instead of letting tantrums get the better of him.
"It gives kids a way to understand what's going on, how they can react to things," Ripken said. "And what's going on with their behavior -- sometimes they don't even know."
The two-time American League MVP said his son Ryan, 17, enjoyed the book. A second book in the series, "Super-sized Slugger," will tackle the issue of bullying.