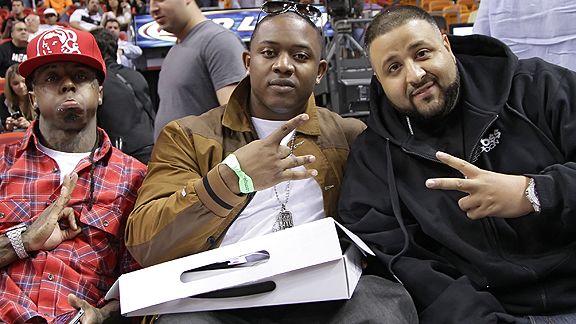 Alexander Tamargo/Getty ImagesLil Wayne, Mack Maine and DJ Khaled hang out in Khaled's seats at a Miami Heat game.
DJ Khaled isn't worried.
Yes, the Miami Heat have lost five in a row and play the red-hot Los Angeles Lakers on Thursday, but Khaled -- the music executive who easily is the biggest Heat fan -- will be courtside ready to exclaim:
Listennnnnnn: Put this in big black letters -- The Miami Heat, All We do Is Win and We Da Best -- signed DJ Khaled.
"Hey, we're going to win the championship," said the record producer, radio personality and record label executive. "Sometimes you have to lose to be on top. That's just part of winning. We're going to be unstoppable. Just watch."
Khaled knows of what he speaks. Born in New Orleans and of Palestinian descent, Khaled made a name for himself by moving to Miami and working as a disc jockey and then a record producer. He is always courtside at games with his buds Birdman, L'il Wayne and Mack Maine, among others.
As with his chart-rising hit "Welcome to My Hood" with Rick Ross, Plies, Lil Wayne and T-Pain, most of DJ Khaled's songs -- "Out Here Grinding," "We Takin' Over" and "I'm So Hood" -- focus on teamwork for success.
He said that teamwork is what will propel the Heat.
"People love to nitpick right now when you have all these superstars on the same stage. Like me and my music, they are hustling and grinding," Khaled said. "LeBron is amazing. Dwyane is a great basketball player. They are getting it together. You can call me the LeBron or D-Wade of hip-hop music."
And things will turn around. Maybe starting Thursday.
"I'm going to be courtside ready to celebrate," he said. "We're going to beat Boston, Los Angeles, New York. You'll see. All we do is win! Listennnnn!"