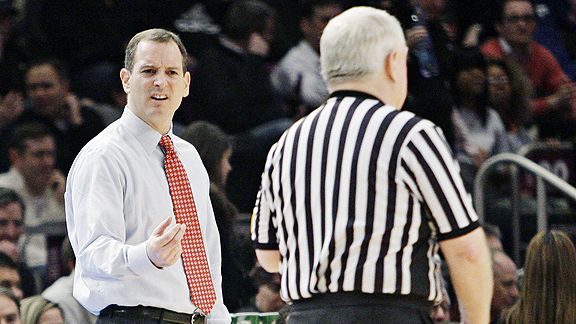 AP Photo/Mary AltafferRutgers coach Mike Rice offers a bit of foreshadowing for later events against St. John's.
At Page 2, we know you're funny, so share your gift. We'll find a great photo, and you provide the caption.
Rutgers coach Mike Rice argues with an official during the first half of Rutgers' 65-63 loss to St. John's at the Big East Championshipon Wednesday at Madison Square Garden. The game ended in controversy later when the referees failed to officiate until the game ended.
Give us your caption in the comments.
Yesterday: Our favorite from the photo of Cavaliers coach Byron Scott talking to Baron Davis from user Bankhedd99: "I already told you, the post-game meal will be down the hall from the locker room, through the double doors on the left. Why do you keep asking me that!?!"