Welcome back to another edition of Page 2 Jeopardy!, the quiz that tests your knowledge of sports, pop culture and assorted trivia. Please remember to phrase your responses in the form of a question.
(Correct questions at the end of the quiz.)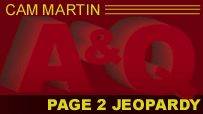 1. Answer: Dorchester soccer player Ashley Vickers was sent off with a red card against Havant & Waterlooville for doing this.
2. Answer: The high school football teams from Sherman Oaks (Calif.) Notre Dame and Chandler (Ariz.) Hamilton will kick off their 2012 seasons by playing against each other in this notoriously green locale.
3. Answer: A hearse billed as this athlete's "last ride" was temporarily up for bid on eBay.
4. Answer: Robert Kasmir, an accounting professor at George Washington University, was honored at halftime of the Dayton game for his philanthropic donations to the school, and then ejected from the building in the second half for doing this.
5. Answer: This NFL player went on Twitter and wrote, "Boy they need to let me know what's gonna happen with this NFL lockout cause if they do ima join the (U.S.) track team."
Question 1: What is tackling a fan who'd run onto the field wearing a Borat-style man-kini?
Question 2: What is Ireland?
Question 3: Who is Dale Earnhardt?
Question 4: What is confronting a referee from his courtside seat to argue a foul call?
Question 5: Who is Chris Johnson?