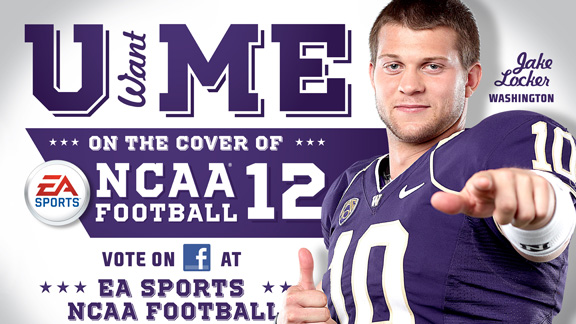 EA SportsLocker hopes his loyalty to Washington scores him a few votes.
Mobile quarterbacks have been all the video-game rage ever since Randall Cunningham (aka "QB Eagles") first took off downfield in "Tecmo Super Bowl," and virtual defenses have been trying to catch up ever since. From Michael Vick to Pat White, quarterbacks with wheels have proved time and time again that speed kills on the cyber fields of both the "Madden" and "NCAA Football" franchises.
Next in line of the great "Madden" quarterbacks could be Washington's Jake Locker. The speedy quarterback ran a 4.59 40 at the combine, upping his stock with not only his Flash-like feet but by also showing great touch on his passes and throwing a mean deep ball -- all essential qualifications if you're looking to be the next big polygonal thing.
And you can count EA Sports as just one company already jumping on the Locker bandwagon, including the quarterback among four finalists who fans can vote for when it comes to posing for the cover of "NCAA Football 12." At the same time, the EA "Madden" team is already hard at work creating Locker and fine-tuning his player ratings for when he's drafted into the NFL.
"I hope people want to play as me in 'Madden' this year," Locker tells me with a laugh. "At least I'd like to think someone out there wants to."