The real madness in March might have nothing to do with basketballs, and everything to do with dogs, sleds and the snow and ice of America's Last Frontier. A look at the athletes from the Lower 48 who might have been perfectly suited for the Iditarod in Alaska:
Butch Huskey: Unfortunately, he lived up to his name. The once-praised Mets phenom was hounded by weight issues that put him in the doghouse with manager Dallas Green, fans and talk show hosts. While he never became a star, he played seven seasons and hit 86 homers.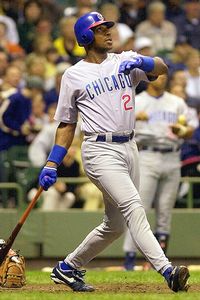 AP Photo/Morry GashFred McGriff, known as the "Crime Dog," played for six teams in the major leagues.
Glenn "Big Dog" Robinson: The NBA scorer would give any musher his best shot, since the former No. 1 overall pick by the Bucks averaged more than 20 points per game in his 11-year career.
Fred McGriff, "The Crime Dog": With 493 home runs, definitely the lead dog. The big first baseman never yapped, never pulled at his leash and never even chased the Big Cat. He just quietly played the game, led both leagues in homers, was a five-time All-Star and won a World Series.
Bill "Mad Dog" Madlock: The fiery temperament of the four-time batting champ would keep the pack on its toes. He often backed up his bark with his bite, once poking an umpire in the nose with his glove, charging a pitcher after being brushed back and getting into a fight with a Giants teammate.
Eric "The Flea" Allen: The former Michigan State and CFL star would be along for the ride. The little Spartan (5-foot-9, 161) was as much greyhound as flea, setting an NCAA record in 1971 by rushing for 350 yards in a game versus Purdue.
"Bulldog" Turner: The Hall of Fame NFL center linebacker would keep the sled moving. Bulldog's given name was Clyde, but everybody called him Bulldog -- a name he reportedly gave to himself to make himself seem tougher before trying out for the team at Hardin-Simmons.
Tony Perez: "Doggie" of the Big Red Machine would provide some power. The Hall of Famer from Cuba also was called "Big Doggie," although the biggest doggie ever for the Reds was Schottzie (Schottzie 01 and Schottzie 02), Marge Schott's beloved Saint Bernards.
George "The Iceman" Gervin: The NBA great would be at home in Nome. Appropriately, he once credited a high school janitor named Mr. Winters for letting him have extra gym time as a kid to polish his shot.
Snoop Dogg: He'd keep the Dogg Pound entertained at night. The Iditarod would be like the Snooperbowl for the "Doggystyle" rapper who sells the Snoop Dogg Pet Accessory Line, which no doubt has some nice sweaters for the Fidos in Alaska.