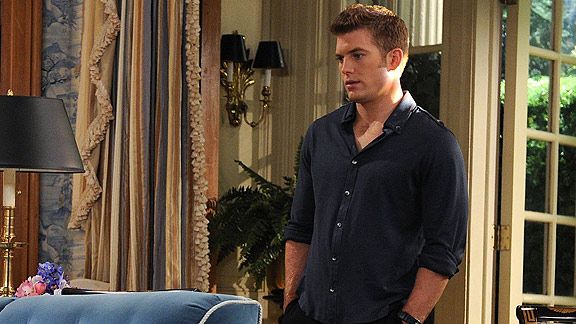 Bryan Bedder/Getty Images for DATGMark Lawson of "One Life to Live" would really like to take part in a celebrity MMA tournament.
Actor Mark Lawson, who plays Brody Lovett on ABC's "One Life to Live," is issuing a challenge to other actors:
"I want to take part in a celebrity mixed martial arts tournament," said the 31-year-old Lawson, who has been on the long-running soap opera for three years. "UFC president Dana White, let's set this up. I'm a good fighting weight of 175 and I'm ready to take on all comers."
Lawson has had some experience in the Octagon, with a 1-0 record in a semi-pro fight a few years ago, and he works out almost every day to stay in soap-opera-take-off-my-shirt-all-the-time shape. He had one problem in that fight, though.
"I did break my jaw in that match, so I'd be a little worried about that," said Lawson, who received a bachelors' degree in fine arts from the Boston Conservatory. "I think my agent is going to kill me for issuing this challenge."
But Lawson isn't giving up his day job. On Sunday night, he, along with other stars of ABC soaps -- "One Life to Live," "General Hospital" and "All My Children" -- performed in a New York benefit called "ABC Daytime Salutes Broadway Cares." Lawson sang "This is the Moment" from the musical "Jekyll and Hyde." The seventh annual benefit, which featured musical and comedic acts, raised $301,000 for Broadway Cares/Equity Fights AIDS.
"I love acting and singing," Lawson said, "but something inside of me wants to get back in the cage."