T.J Ford doesn't hesitate to tick off his go-to meal when it comes to impressing a lady.
He knows what he does well -- other than playing point guard for the Indianapolis Pacers.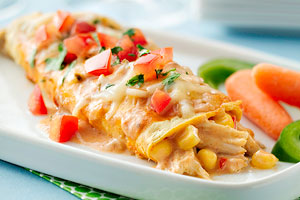 Betty Crocker T.J. Ford's Tex-Mex enchiladas are meant to represent Austin, where he played for Texas.
"I have to go with my Tex-Mex enchiladas -- it would work to attract any woman," he says. "I grew up watching my mom do a lot of cooking, a lot of different kind of recipes and now that I feel like I'm a little older now, I'm getting in the kitchen -- with her help at times -- and I'm trying to put the same type of feel, dedication to the food, to make it taste good."
That recipe works magic, Ford says, and you can give it a whirl.
The former University of Texas standout has teamed up with Betty Crocker, and on Tuesday, they'll launch a program called The Betty Bracket, which is a single-elimination bracket where people can vote for their favorite of 64 original appetizer and game-day recipes, which naturally are inspired by top college basketball towns.
Ford's dish celebrates Austin, and he's hoping that both his team and his dish make it to the Final Four. Starting on Tuesday, fans can vote at BettyCrocker.com/BettyBracket for the best recipe. Others include Kentucky Bourbon Bacon Chex Mix from Lexington, Ky., Blue Cheese Deviled Dogs from Durham, N.C., Mac and Beer Cheese Cups from Madison, Wis., and Kansas City BBQ Nachos from Lawrence, Kan.
And as for Ford's hoops Final Four?
"Of course, the University of Texas, because I went to school there and they're playing great as of right now," Ford said. "I would go with Kansas, Kansas is a pretty good team and has a lot of talent and has been ranked in the top five all year. I'm a big fan of UConn, I think they play pretty hard and they have a good team and I guess the other team would probably be Duke. They're always in the race and you have to consider them every year. Knowing that they won the national championship last year, I'm pretty sure that they will have a great chance to get back to the Final Four."