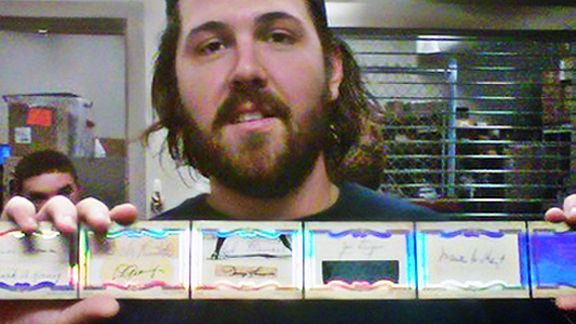 Courtesy of Chris Perez Chris Perez unveils his own Murderer's Row.
You might have seen the headline when Cleveland Indians closer Chris Perez signed a one-year deal with the Tribe in January.
But you probably never heard about one of the first things he decided so spend some of that $2.2 million on.
He bought a baseball card.
Now, it's not just any card, either. Perez purchased a one-of-a-kind Topps card, a fold-out booklet with the signatures of nine 1927 New York Yankees attached. The two biggies? Babe Ruth and Lou Gehrig, while the seven other autographs are the rest of the starters in the legendary lineup known as "Murderers' Row."
The cost? A mere $20,000.
"This is definitely a nice little gift I'm giving myself for my new contract," Perez said from spring training in Goodyear, Ariz. "Some people buy cars, jewelry, houses. I wanted to buy something a little different. I could barely talk my wife into letting me bid the initial $20,000 let alone get in a bidding war."
In an interview about the card and his collecting habits appearing in the latest issue of Beckett Sports Card Monthly, Perez admits that he does chase his own cards -- though they're not quite as expensive. He appears on just 235 cards, according to the Beckett.com database, and they're worth an average of just $3.51 apiece.
"I own every one of my own cards, except the 1/1s [where only one copy is made]," he said. "But I do check out eBay to see if there are any printing plates or other 1/1s."
Perez, who made his big-league debut with the St. Louis Cardinals in 2008, said his biggest previous card purchase was an autographed 2001 Bowman Chrome Albert Pujols rookie card -- a card that typically fetches about $4,000.
"I have made some big purchases before," he said, "but nothing of this magnitude."