When the sixth installment of Topps' popular Allen & Ginter baseball card set arrives in July, it will be packing some punch that the collecting ranks haven't seen before.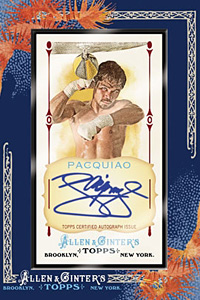 Courtesy of ToppsManny Pacquiao's autographed card will be part of a Topps' set this summer.
It will include the first autographed trading card of WBC Super Welterweight champion Manny Pacquiao. You know, he's the guy who is Floyd Mayweather Jr.'s best friend and the first fighter to win a title in eight different weight classes. He's the guy considered by many to be the best pound-for-pound boxer today.
And, for Topps, his inclusion was a no-brainer.
"He's someone we've been trying acquire a deal with for some time," said Topps Director of Product Development Clay Luraschi. "The product has always had a champions theme and Manny is known across the globe as not only one of the greatest champions in sports today, but of all time."
Allen & Ginter is modeled after a late-1880s set of tobacco cards that included baseball players along with athletes in other sports -- "world's champions" as the original cards read. Today, that means you can find Pacquiao alongside the likes of Albert Pujols and Derek Jeter in packs.
While Pacquiao is a definite coup for Topps, its recent Ginter sets have included some pretty big names from the boxing world since the first set arrived in 2006. That set included a card signed by Mike Tyson that was limited to just 200 copies. It sells for as much as $350, according to the Beckett.com database. It also included a Leon Spinks autograph that's not quite as popular at just $80. In 2007, Ginter included cards signed by Laila Ali and Joe Frazier.
The original Allen & Ginter set included the likes of John L. Sullivan and Jack McAuliffe, so the boxing inclusions aren't an accident.
"Because we want to pay tribute to the original," Luraschi said, "it is important for us to have boxers in the set."
Pacquiao isn't the only boxer of note slated to appear in this year's set, either. Also signing autographs for Ginter are Jake LaMotta of "Raging Bull" fame and Micky Ward, whose story was recently told in "The Fighter" starring Mark Wahlberg.