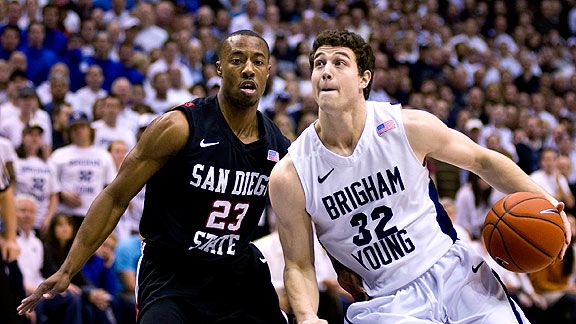 Douglas C. Pizac/US PresswireWill BYU's Jimmer Fredette buck the trend of recent scoring champs not panning out in the NBA?
This season, BYU guard Jimmer Fredette is a national player of the year candidate and led NCAA Division I in scoring, averaging 28.5 points per game.
But players who lead the nation in scoring often play for smaller programs or fail to make names for themselves in the NBA. Can you match these recent scoring champions with a fact from his college career?
1. Aubrey Coleman, University of Houston
2. Stephen Curry, Davidson
3. Reggie Williams, VMI
4. Adam Morrison, Gonzaga
5. Keydren Clark, Saint Peter's
A. Is just 5-foot-9.
B. Caused a furor when he stepped on Chase Budinger's head.
C. After leading the nation twice in scoring, he played for Dijon in France.
D. Had to adapt to having type 1 diabetes.
E. Set NCAA season record for 3-pointers.
Answers: Coleman, b; Curry, e; Williams, c; Morrison, d; Clark, a.