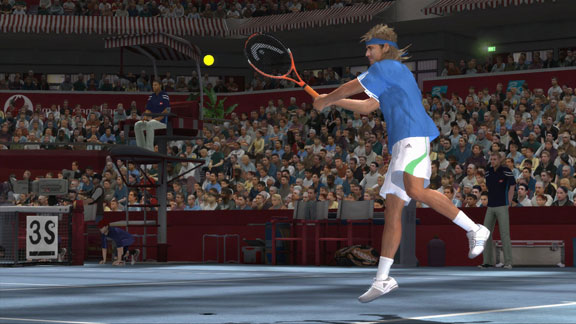 2K SportsAndre Agassi is playing like a champ again in "Top Spin 4."
This past Halloween, I saw two people in San Francisco walking around with mullet wigs and obnoxiously bright tennis gear complete with drawn-on stubble to complete their throwback Andre Agassi costumes.
When I tell the man who inspired the iconic look about what I saw, all he could do was laugh, later admitting that he didn't even realize the impact he was having on pop culture while he was playing.
"You're never aware of the influence you have at the time, but then you start seeing signs like the stadium being sold out and people wearing your equipment and dressing like you and playing with your racquet," Agassi tells me. "That's when it occurs to you that you've reached a certain level with people and are connecting.
"On the other side of it are all of those in the audience who are calling me a punk and 'all show and no substance.' All of it was a bit overstated and it's never quite who you are, so you do your best to keep it all in perspective."
When you're not just a sports icon but a pop culture icon the way Agassi was/is, keeping perspective has to be an everyday struggle. In fact, it's Agassi's unique flavor that makes him one of the most marketable and beloved players in the game today, even in retirement. That's why video game publisher 2K Sports, which features Michael Jordan on the cover of "NBA 2K11," signed Agassi to appear front of the box for the upcoming smash, "Top Spin 4."