Pittsburgh Steelers wide receiver Hines Ward, who was born in South Korea to a Korean mother and an African-American father, isn't surprised that racism toward the Asian community still exists.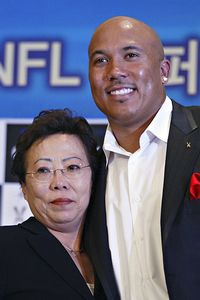 Chung Sung-Jun/Getty ImagesHines Ward of the Pittsburgh Steelers and his mother, Kim Young-Hee, at a function in Seoul, South Korea.
"I've been dealing with this my whole life. I still remember being called the Jackie Chan of football," Ward said from his home in Atlanta. "I can't believe people today still want to say negative things about another race. People need to be more sensitive."
The list of people taking negative shots toward the victims of the recent Japanese earthquake and tsunami is unfortunately growing.
Conservative commentator Glenn Beck rationalized that the national disaster was God's work, saying, "I'll tell you this … there's a message being sent." Cappie Pondexter of the WNBA's New York Liberty agreed, tweeting and later apologizing for saying, "What if God was tired of the way they treated their own people in there own country! Idk guys he makes no mistakes." And comedian Gilbert Gottfried was fired Monday as the voice of the Aflac duck after tweeting, "Japan is really advanced. They don't go to the beach. The beach comes to them."
Ward just shakes his head thinking about the devasation and how the tragedy has affected so many lives.
"Imagine if those people had said the same thing about Haitians or African-Americans? All hell would break loose," Ward said. "But when it comes to the Asian community, it's easy to crack jokes because no one is coming out of the woodwork to defend those people."
Ward, who was appointed by President Obama to his Advisory Commission on Asian Americans and Pacific Islanders, said people should think before speaking.
"I'm not going to be the next Martin Luther King and say what's right and what's wrong. Am I OK with it? No. There are just some things I can't control," Ward said. "I was just taught that you should treat someone like you want to be treated. I wish they would think about it if the shoe were on the other foot."