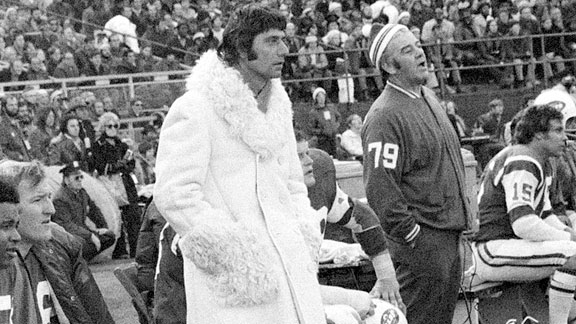 AP Images1974: Joe Namath pushes the fashion envelope, wearing full-length fur coats on the sidelines.
Ever wonder why baseball players wear stirrups? Or which pro kicked off the endorsement gravy train? (Hint: Pantyhose got it all rolling.)
1888: BASEBALL GETS ITS STRIPES
The National Baseball Hall of Fame traces pinstripes to the 19th century, when the Washington Nationals and Detroit Wolverines of the National League and the Brooklyn Bridegrooms of the American Association added the detail. But baseball uniform scholar Marc Okkonen credits the 1907 World Series champion Cubs as the likely first wearer of the thin, vertical lines. (His database goes back only to 1900.) Either way, the most famous member of the pin crowd -- you know, the Yankees -- wouldn't take the field in that style until 1912.
1905: COLOR ME BAD
Cleveland's Nap Lajoie was spiked in his left ankle and missed five days with an infection. After doctors incorrectly blamed dye from his blue uniform socks (rather than bacteria) for contaminating the wound, white sanitary socks were introduced. When players complained that two pairs of socks made their spikes too snug, the stirrup was born.
1928: HEADSTRONG
More than half a century after Boston Bruin George Owen became the first hockey player to regularly wear a helmet, the NHL made lids mandatory in 1979. Players who had already signed contracts when the rule was imposed got a pass. Four-time Stanley Cup-winner Craig MacTavish took full advantage of the grandfather clause, going helmetless until he retired in 1997, the last of the bareheaded NHLers.