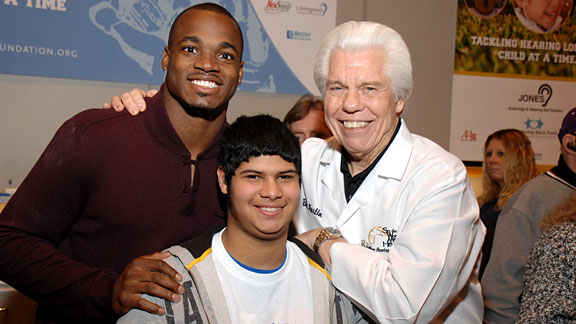 Starkey Hearing FoundationAdrian Peterson and Bill Austin, founder of Starkey Hearing Foundation, help children hear better.
Brady Forseth has been traversing the world lately, going from continent to continent as part of his position with the philanthropic Starkey Hearing Foundation.
So no, Forseth -- the foundation's executive director -- hadn't heard about Adrian Peterson's controversy-generating comments (the Minnesota Vikings running back recently equated playing in the NFL to "modern-day slavery.")
But Forseth isn't worried about those words. He wants people to know the side of Peterson he sees: The one that long has been a friend of the foundation, and the one who -- with nine other NFL players as part of the PROS FOR AFRICA organization -- is taking part in a mission trip delivering hearing devices to the people of Uganda and Rwanda.
"I can't say enough about him -- we just love him," Forseth said by phone, after delivering an estimated 555 devices to hearing-impaired people in the Ugandan capital of Kampala. "He's been true to the cause. … He really cares about our patients."
Peterson has worked with the foundation for multiple events. Thursday came the latest one, as Peterson -- along with longtime Starkey Hearing Foundation collaborator Larry Fitzgerald, plus fellow NFL players Vernon Davis, Vontae Davis, Roy Williams, Bryant McKinnie, Tommie Harris, Gerald McCoy, Derrick Morgan and Santonio Holmes -- helped out in the Ugandan city of Gulu.
From there, the group will go to Rwanda. In total, the players themselves are expected to spend a week in Africa -- and really do work.
"These guys aren't just going to be standing around and spending an hour doing some type of celebrity appearance," said Forseth, who believes his foundation will give out 105,000 to 125,000 hearing devices worldwide by the end of 2011.
"They'll be spending long days, from 9 a.m. until the last patient's done. If it's 7 o'clock, it'll be 7 o'clock."
PROS FOR AFRICA was formed in 2009, with Peterson, Williams and Harris among the co-founders. It has performed missions on the continent the past two years, and joined with Starkey on this one.
Forseth hopes the new partnership will continue.
"It's going to be wonderful trip," he said, "so we plan on many more with them."