For some reason, it seems unusual to me that Dallas Mavericks owner Mark Cuban would be watching network television.
The 52-year-old self-made billionaire owns one of the best franchises in the NBA, as well as a string of art-house movie theatres, and is chairman of HDTV cable network.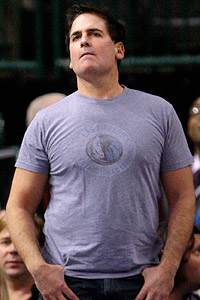 AP Photo/LM OteroMark Cuban loved watching "Shark Tank" so much that now he's on the show.
But the man is hooked on "Shark Tank," a ABC reality TV series about five "sharks" who hear investment proposals and consider whether to invest in the businesses.
In fact, Cuban will appear in a special sneak preview episode 9 p.m. ET Sunday. He, along with comedian Jeff Foxworthy, will appear in a handful of shows, which airs in its regular time slot March 25.
"I'm a huge fan of the show. I loved what they were doing and I thought it would be a good idea to go on," said Cuban, who must be passionate about it because he called instead of sending e-mail messages like he normally does. "I get pitched business proposals every day. People stop me on the streets. This is just part of my normal life."
Cuban said he started out poor when he began his entrepreneurial career, "eating mustard and ketchup sandwiches" and living with five other guys in a three-bedroom apartment. But he was committed to become a success, just like those he sees on the show.
"I would drive by expensive houses to get motivated. I would listen to motivational tapes," said Cuban, whose dad worked 11 hours a day as an automobile upholsterer. "When it comes to business, my best strength is my laser focus. It doesn't matter your background. It just depends on how hard you want to work."
Even if that meant relationships.
"When I was single and dating, I'd always get this ultimatum: 'Me or your business,'" said Cuban, who has been married for nine years and has three children. "I'd just say, 'What is your name again?'"
And what's the latest about negotiations with Charlie Sheen for either a reality show or a talk show?
"Don't even go there," Cuban said. "I'm not going to talk about that. Nice try, though."