SEATTLE -- For all the trappings of success and fame, Pearl Jam bassist Jeff Ament does not convey any sense of entitlement.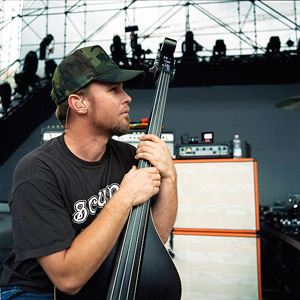 Courtesy of Danny ClinchJeff Ament, a stand-up guy in more ways than one.
Relaxing in a lounge at the Pearl Jam and Ten Club offices, which features a half-pipe and rehearsal space among the music equipment, merchandise and plentiful band archives, he's quick to point out how fortunate he is to be doing the things he enjoys most.
"Pretty much, it's the stuff that I've been doing since I've been a kid -- music, skateboarding and basketball," Ament says with a smile. "I went to the gym this morning and played one of my two or three days a week runs, down here and play a little music, skateboard a little bit in between. It's a good day."
Ament's latest project, Tres Mts. with singer and guitarist dUg Pinnick (King's X) and drummer Richard Stuverud (The Fastbacks), brings him and his bandmates (along with touring guitarist Mike McCready of Pearl Jam) back to the smaller scale of club shows with a six-city tour that began Wednesday night in Seattle and concludes March 27 in Boston.
Tres Mts. is scheduled to perform March 24 on NBC's "Late Night With Jimmy Fallon," but a Saturday show in Austin, Texas, for the SXSW Festival with little time to set up and just 40 minutes to play should help keep them grounded.