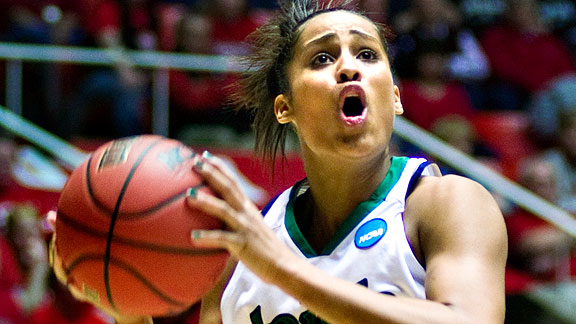 Douglas C. Pizac/US PresswireSkylar Diggins loves getting a note from her mother before game time.
Skylar Diggins, a sophomore All-America point guard for the nationally ranked Notre Dame women's basketball team, is blogging about her NCAA tournament experience for espnW.
What gets an athlete ready to play? What does an athlete do to get "in the zone" before a big game?
Every athlete has a pregame ritual. This could consist of listening to a favorite song to get pumped up, eating a favorite snack or pregame meal, getting words of encouragement from a friend or family member or all of the above.
Pregame rituals are different for every player. For instance, my thing is: music, hair, mom -- in that order. I listen to the same albums, artists and songs before each game. Next, my hairdo -- I'm a little superstitious, so I wear my hair according to how I played, with that hairdo, in the previous game (I know, very girly and unnecessary, some may think, but it's a habit). I'm so critical of myself, so I change my hair a lot. Finally, my mom sends me a positive quote before the game that always motivates me.