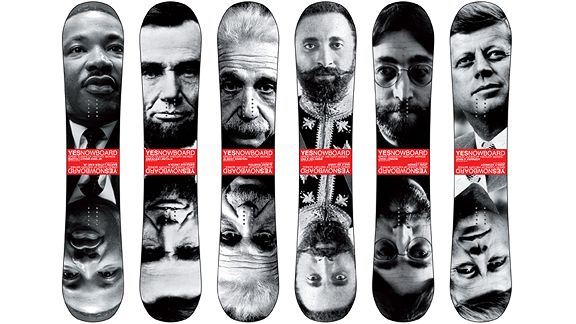 YES Snowboards YES snowboards' Great Dudes of History line features Martin Luther King Jr., Abraham Lincoln, Albert Einstein, Haile Selassie, John Lennon and John F. Kennedy.
It doesn't take an Einstein to know "The Great Dudes" is one genius idea.
Who wouldn't want to go shredding with Abe, do a little jamming with John or get a little mountain high with Haile? Why go boarding with your regular dudes when you can spend the day with The Great Dudes?
YES Snowboards unveiled its The Great Dudes of History (TGDOH) line of boards in September, and The Dudes took off. They've been the company's top-selling boards (at about $400 a pop) ever since, and the line has been praised by critics, even named Freestyle Board of the Year by one group.
But as good as the board might ride, there's no question The Great Dudes are hot because they're cool.
Just look at the YES ad, where the six boards are lined up side by side -- like a mini Mount Rushmore -- with the faces of Martin Luther King Jr., Abraham Lincoln, Albert Einstein, Haile Selassie, John Lennon and John F. Kennedy. These boards, with mirror images on nose and tail, make people stop and stare.
As pro snowboarder and YES co-founder Romain de Marchi says, "It's pretty cool to look down and have Albert Einstein under your feet."
De Marchi, from Switzerland, founded YES two years ago with big-time riders David Carrier Porcheron of Canada and JP Solberg of Norway. They wanted a company with "new ideas" and a "Yes We Can" approach.
So, when Portland artist and boarder Chris Prosser proposed putting images of The Great Dudes on snowboards, YES didn't say no.
"Actually, like the whole point of YES is to have a platform for artists to express themselves," says de Marchi. "It's like that for the Great Dudes of History."
De Marchi says the concept is that The Great Dudes all did great things and made positive changes, in line with the YES philosophy.
So, that's how a company started by a Canadian, a Swiss and a Norwegian teamed with an artist from Oregon to put images of Americans, a German, a Brit and an Ethiopian on Swiss-made snowboards.
"People relate to them," says de Marchi, who rode a Lennon board during long months of development. "It's unique. Nobody's done anything like this before."
He says nobody's complained that standing on The Great Dudes' faces might be seen as disrespectful.
Next up, YES will reveal a new line of "great something of history" boards in September. The Great Dudesses of History? We'll have to wait.