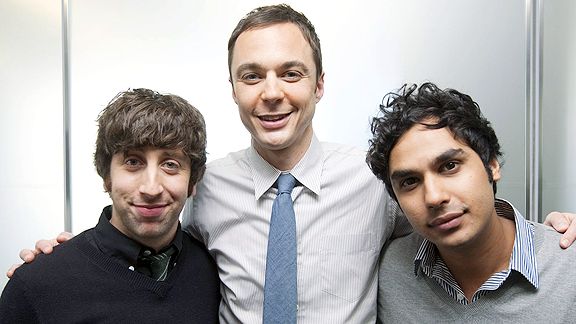 AP Photo/The Canadian Press, Darren CalabreseKunal Nayyar (right) hangs with "Big Bang Theory" costars Simon Helberg and Jim Parsons.
On CBS's smash sitcom "The Big Bang Theory," actor Kunal Nayyar plays Dr. Raj Koothrappali, a genius astrophysicist famed for his noted publication on the Kuiper belt object size distribution and, more importantly, for his hilarious inability to talk to women unless he's drunk. In real life, Nayyar can't stop talking about his favorite obsession: the sport of cricket.
The London-born and New Delhi-raised actor spent some time talking to Page 2 about his thoughts on the ICC Cricket World Cup, what every American should know about the sport, and which fellow "Big Bang" cast member would make the best cricketer.
You have English and Indian roots? Who's your team?
"I'm an Indian fan. I only lived in London for three or four years. I predominantly started watching cricket growing up in India."
Talk about your experiences playing cricket.
"I grew up like any other kid in Delhi playing cricket since I was 5 or 6 years old. I went to cricket camp in the summer. I played a lot of cricket for fun and at school. I was never really great, but I was a huge cricket fanatic. For me, getting on the field was a dream. Anytime we had a moment, we'd go into our driveway with a tennis ball and cricket bat and play."
What's your favorite World Cup memory?
"It's my favorite and it's my worst moment because we lost. It's when we played Australia in the final in 2003. I remember because I was in Portland, Ore., studying in college at the time, and my brother had found out this one Indian restaurant was going to be showing the World Cup final. It was two hours away and I skipped school that day. It was 4:30 in the morning and they were serving samosas and chai. It was $45 to get into this restaurant. It was so expensive, but we paid. We stood up when the national anthem played. I was almost crying. This was our year, but they absolutely destroyed us."