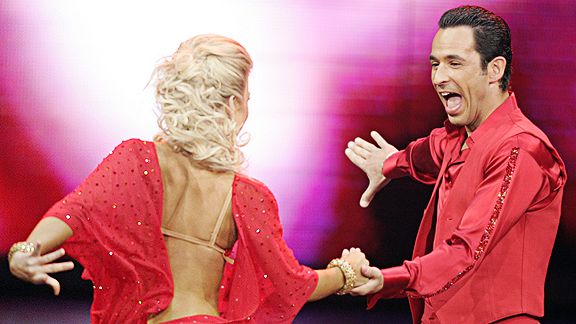 AP Photo/AJ MastIndy Racing League driver Helio Castroneves performs with his dance partner Julianne Hough in 2008.
Takes one to know one.
Former "Dancing with the Stars" champion Helio Castroneves broke down his top five picks to bring home the mirror ball this season while in New York Wednesday night at an event to kick off the 100th anniversary of the Indy 500.
"Sugar Ray [Leonard] seems to be a fan favorite and I really liked watching the football guy -- Hines Ward," said Castroneves, who won the show's fifth season. "Ward has charisma so I think he'll go far."
The IndyCar racer also had high marks for Ralph Macchio but thought his first outing was a tad too familiar.
"The 'Karate Kid' was great man, but he danced the same foxtrot to the same exact Frank Sinatra song that I did week 1 with Julianne [Hough]," said Castroneves of their moves to "Ain't That a Kick in the Head." "I was like wait! That's mine."
As for the women, Castroneves showed love for Disney girl Chelsea Kane because she's "fit, has the right look and is a good combination with Mark Ballas," and he also was impressed with self-proclaimed "Fat Actress" Kirstie Alley.
"She really surprised me," Castroneves said. "She had great footwork for only her first week and she wasn't taking it easy. Her partner Maks [Chmerkovskiy] did a great job with her."
Castroneves also gave some advice for the competitors -- especially the lesser-known stars.
"My worst fear was being eliminated early because a lot of people didn't know me at the time," Castroneves said. "You have to start out good, but not too good because the audience likes to see you improve. You also have to try to captivate the fans with your personality -- just be yourself and remember not to curse on TV."
The three-time Indy 500 champion was flying down to Tampa Thursday to prepare for IndyCar's first race of the season, the Honda Grand Prix of St. Petersburg on Sunday (12:30 p.m. ET, ABC).