The grassroots of basketball are drying up, and Len Elmore is bringing the water.
With NCAA violations among coaches practically commonplace these days, the ESPN college basketball analyst and former NBA player recognizes the need to rid the game he so loves of the mixed messages that can taint the collegiate experience. As CEO of iHoops, whose First Team mentoring program is designed to help prospective student-athletes and their parents navigate the recruiting process, Elmore is trying to clean things up.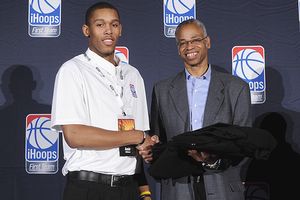 Courtesy of iHoopsLen Elmore's iHoops program helps to advise players and parents on recruiting.
"We look at the grassroots experience as an abandoned warehouse with the windows broken and graffiti all over it and the ground unkempt," said Elmore, who worked as a prosecutor following his 10-year pro career. "People won't have any problem violating rules or defacing the structure if you understand it within the current system. But if you clean it up, fix the ground and paint over the graffiti, all of a sudden it's not nearly in the same context and people are more hesitant to violate the property because people care.
"People like to hide in the shadows and we want to remove the shadows."
When the second weekend of the NCAA tournament kicks off today, seven teams of the remaining Sweet 16 will have alumni of Elmore's First Team program on their rosters, including Kentucky (Brandon Knight), Duke (Kyrie Irving) and North Carolina (Kendall Marshall, Leslie McDonald and Dexter Strickland).
For Elmore, it's all about being up-front with prospective players about the opportunities afforded to them at the collegiate level, especially in what he calls a potentially muddled environment of under-the-table relationships and mixed messages.
"We want to end the confusion and the delusion," Elmore said. "Less than 1 percent of the kids who are playing college basketball will be in the NBA, but most of them are told that they will be. Overall, it just really comes down to the fact that here is a terrific opportunity for these kids that shouldn't be muddled with trying to become professional players."
As far as rooting for the alumni of his program, Elmore, who will be calling the Southeast Regional in New Orleans, isn't picking favorites.
"I'm trying to be the fair objective journalist as well as a fan who just loves good basketball," Elmore said. "Plus I get to work alongside Gus Johnson, so I don't have much of a problem keeping my energy up."