Jeff Sheppard, the leading scorer on Kentucky basketball's last national championship team, in 1998, will never forget visiting the White House to receive the traditional congratulations from the sitting president, thanks largely to a run-in he had with the Secret Service.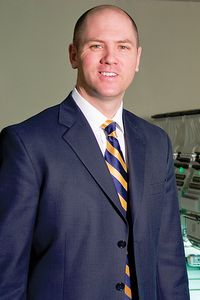 Courtesy of Jeff SheppardFormer Kentucky star Jeff Sheppard runs an apparel company near Lexington.
"President Clinton was coming by, congratulating everyone. Secret Service came up to me and told me to take my hands out of my pockets," Sheppard said.
When the Secret Service tells you they need to see your hands, you'll snap to pretty quick. Sheppard, who won the Most Outstanding Player award after scoring 43 points in the 1998 Final Four, can joke about the incident now.
"If I was gonna take out President Clinton, it wasn't because he was the president, it's because he was an Arkansas fan," he said.
The 1998 season was the highest the Kentucky basketball program has been in a while; it was also the highest Sheppard, now 36 and living in London, Ky., with his wife and two kids, would ever stand in his basketball career. A 6-foot-4 shooting guard who averaged 13.7 points per game as a senior for the Wildcats, Sheppard went on to play just one season in the NBA for the Atlanta Hawks.
"I tell this to kids around the state, that I scored 40 points in the NBA," he said. "They all think it's a big deal until I tell them it was total. No, I had a great experience in the NBA, played a season with Atlanta, got an opportunity with Toronto -- 16th guy on a 15-man roster, one of those deals -- then played three years of professional basketball in Italy."