Welcome back to another edition of Page 2 Jeopardy!, the quiz that tests your knowledge of sports, pop culture and assorted trivia. Please remember to phrase your responses in the form of a question.
(Correct questions at the end of the quiz.)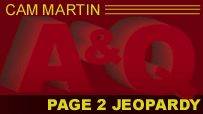 1. Answer: New York Post columnist Joel Sherman said it's time for fans and the media to stop picking on this advocate of centaurs, muscular blondes and mirror-kissing.
2. Answer: The release of the sequel to this popular first-person 3D shooter video game has once again been delayed, this time moved back from April to early June, when it should finally (maybe?) be released -- 15 years after the original.
3. Answer: This former Red Sox Cy Young winner will have his portrait added to the Smithsonian's National Portrait Gallery.
4. Answer: Marty Schottenheimer, who was unceremoniously dumped by the San Diego Chargers following the 2006 season in which his team went 14-2, has agreed to become the next head coach of this devastating football team.
5. Answer: In an old interview that just resurfaced, this actress admitted she smoked a joint just before accepting an Academy Award in 1991.
Question 1: Who is Alex Rodriguez?
Question 2: What is Duke Nukem?
Question 3: Who is Pedro Martinez?
Question 4: Who are the Virginia Destroyers of the UFL?
Question 5: Who is Whoopi Goldberg?