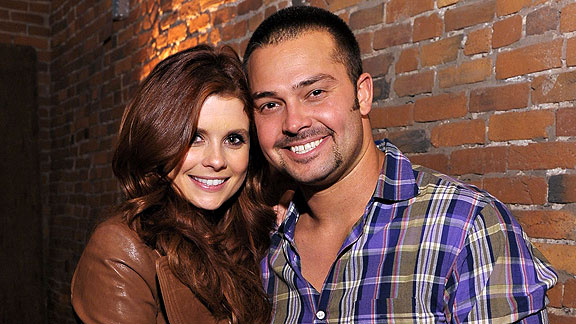 Michael Loccisano/Getty ImagesActress Joanna Garcia and baseball player Nick Swisher attend a party in November.
With 162 regular-season games plus spring training and the playoffs, a major league baseball player can participate in up to 213 baseball games in a single calendar year. That's a lot of baseball with not a lot of downtime. With time off so precious, players try to make the most of it. Here's the best of what major leaguers did during their winter vacations:
Jimmy Rollins, Philadelphia Phillies shortstop

The 2007 NL MVP and three-time All-Star celebrated his one-year wedding anniversary with a two-week trip to Buenos Aires, Argentina. "We absolutely fell in love with the city," Rollins said. Rollins and his wife also enjoyed the wonderful wines and meat that Argentina is known for. "Any Argentina Malbec, you can't lose," Rollins said. "But Catena 2005 was my favorite." As for his favorite cut of steak, Rollins didn't hesitate. "Bife de Lomo," Rollins said. "We were there two weeks, I probably had that about 10 times." (Rollins was back on his diet of chicken and fish as soon as he got back to the States.)
Nick Swisher, New York Yankees right fielder

If you follow the entertainment and celebrity scene, you probably know the 2010 All-Star married actress Joanna Garcia (pictured above) in December. "The highlight of my year was getting married last offseason," Swisher said. "It was amazing. Such a great time." The newlywed couldn't be happier. "Winning the World Series was great," Swisher said, "but getting married like that was waaaay cooler. It's just hopefully I found my best friend. We're happy and having a blast with it."