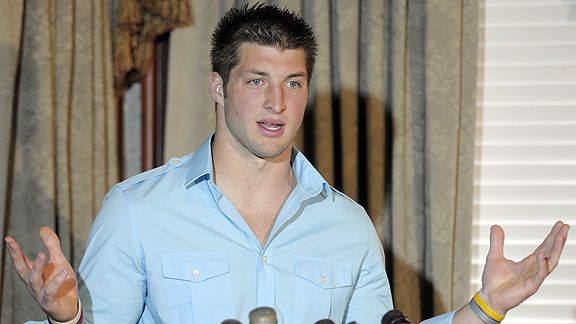 AP Photo/Phelan M. EbenhackThe Tim Tebow marketing machine rolls on. This time sans clothes.
Tim Tebow may be the first professional athlete to model Jockey underwear since Jim Palmer in 1980, but he's hardly the first jock to disrobe for profit. A quick look at other sports stars who cashed in on what lies underneath:
Jim Palmer -- Long before Tebow, the former Baltimore Orioles pitcher and baseball Hall of Famer was equally famous -- if not better known -- for his Reagan-era endorsement of Jockey underwear, which included television commercials and a iconic print ad/poster that featured a reclining, Hasselhoff-ish Palmer in striped bikini skivvies, holding what appear to be muscle-destroying, soul-crushing 7.5-pound dumbbells. Remember: this was before the Steroids Era.
Anna Kournikova -- In 2003 -- has it really been that long? -- the face that launched a thousand downloads cashed in on her worldwide sex appeal by endorsing the United States rollout of a British-made sports bra, reportedly helping double the product's sales in a year's time. The tagline for Kournikova's bra? "Only the balls should bounce."
Michael Jordan -- Deep into his (latest?) retirement from professional basketball, Jordan continues to endorse Hanes underwear, a long-running marketing campaign that has seen His Airness blow off Cuba Gooding Jr., go one degree of Kevin Bacon, treat a series of admiring, everyday shlubs with bored disdain, sport an inexplicable, Charlie Chaplin-esque mustache and share a fist bump with Charlie Sheen.
David Beckham -- Emporio Armani ads and a 100-foot high billboard outside a San Francisco department store featuring the sometimes-footballer in his tight and white near-glory touched off a trans-Atlantic, did-he-or-didn't-he? performance-enhancing controversy -- specifically, accusations from an English tabloid newspaper that Becks, um, overstuffed his carry-on bag for the image in question.
John Daly -- From the Department of No, Seriously: on the same 2010 day that Tiger Woods offered a public mea culpa for his public sex-scandal implosion, Daly announced via Twitter that he had GONE UNDERWEAR MODEL! Shockingly, he wasn't joking, appearing in ads for what he termed "ridiculously comfortable" Slix boxer briefs. At least Daly got the ridiculous part right.
Joe Namath -- Given that the entire notion of athletes pitching underwear is kinda-sorta flawed -- hey America, wear the same stuff I sweat profusely in! -- Broadway Joe's still-remembered television commercial for Beautymist Pantyhose might be the strangest-yet-most-sensical jock undergarment endorsement of all time.