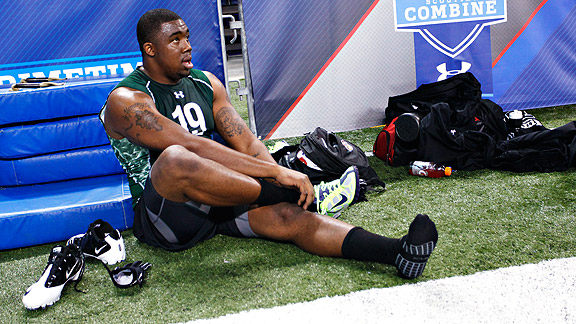 Joe Robbins/Getty ImagesNick Fairley had a good combine workout but some people still say he occasionally dogs it.
It's exactly one month to the NFL draft, and Nick Fairley, former defensive tackle for the national champion Auburn Tigers, is choosing not to read internet reports or watch television when it comes to news about himself.
"If I did, it would actually make myself crazy," said Fairley, a 6-foot-4 and 291 pound lineman from Mobile, Ala. "I'm trying to stay low key. I'm keeping my head out of the media. I know that I'm going to make a team very happy for picking me, though."
Fairley, who had 60 tackles and 11.5 sacks this past season, is scheduled to make trips to see eight of the top 10 teams (not Dallas and Arizona) with the hopes of moving up the draft board. But some critics have said Fairley -- who actually had a better 40-yard dash time (4.87 seconds to 4.93) than the other top defensive tackle Alabama's Marcell Dareus -- doesn't give 100 percent on every play.
Fairley doesn't care what's out there. He knows he's one of the best linemen in the draft and he knows in his heart what he can do.
"I'm ready to play the game at the top level. I just want to get on the field. I want to show a team they can count on me," Fairley said. "College was the best four years of my life. It meant a lot to me. But now I'm ready to be called up and step up for an NFL defense."
And Fairley is looking forward to making his first trip to New York for the draft on April 28.
"I need to get that invite first. Then I'll sit down with my parents and see how much fun I can do while I'm there," Fairley said. "It's going to be all about football … but maybe I can squeeze in seeing the Empire State Building and the Statue of Liberty?"