Joe Theismann has a plan for waiting out this whole NFL contract muckety-muck.
He's going to tune in to baseball, anticipate the NBA playoffs and make sure that his golf game is in tip-top shape in the event of a lockout. Golf takes precedence, because he's convinced that a lot of these current football players will be boning up on the greens.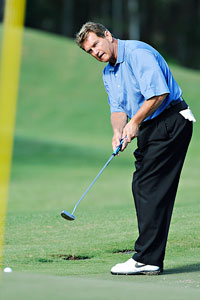 Stan Badz/Getty ImagesFormer Redskins quarterback Joe Theismann says he's got to work on his golf game to fend off locked-out NFL players.
"I'm sure I'll see a lot of these guys in golf tournaments I play in. The only problem with them not being able to play football is they're gonna probably get better at golf, so I gotta get better," laughs the former Super Bowl champion and two-time Pro Bowler.
Theismann is taking on a new role as a pitchman for SURGEX, a sports nutritional supplement. Also a longtime broadcaster, he was added to the NFL Network's "Thursday Night Football" crew last fall, while also serving as an analyst for the network's weekly "Playbook" show, and says he's disappointed with the way the NFL negotiations have been going so far.
"It's a darn shame. I've stayed away from this thing purposely, just to sort of take a fan's view of this. So, I'm looking at this like a fan and from what I've seen, is I see the owners negotiating from a position and making offers to the players. I have yet to read -- now, maybe this is because the players don't have a public relations machine -- but I have yet to see the players come off of any position except that they want to see 10 years of the owners' books," the former quarterback says.
"I mean, I haven't seen players say, 'we would like this.' From what I've read is the owners have said that they're going to put $82 million into a retired players fund. Well, that catches my attention, being a retired player. They're talking about coming off of the 18 games. I just think that there is enough money out there to be divided among people in a sport that has never seen better times. It is the single most popular sport in America, its revenue has been up, its ratings have been up, it's fan viewership is up and now there's this dark cloud hanging over it."