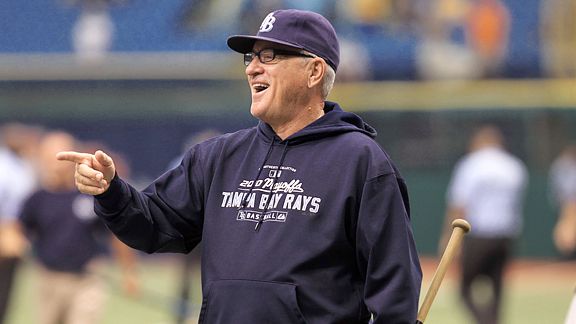 Kim Klement/US Presswire
In the Pro's Questionnaire, our favorite sports figures take our abridged version of the most famous personality test, the Proust Questionnaire. Tampa Bay Rays manager Joe Maddon is on deck. On the eve of his sixth season at the helm of the Rays, the 2008 Manager of the Year talks about being afraid, his beloved Malibu Chevelle and why he can't eat Mexican food.
Your main fault:
Joe Maddon: I've got so many. Do I have to choose one particular fault? God ... Bless America ... there's so many different ways to go with faults. I think too much. I worry too much. Ok. My main fault? I can't say no.
Your idea of happiness:
JM: Family.
Your idea of misery:
JM: No wine. No red wine. That would be awful.
If not yourself, who would you want to be?
JM: Does he have to be alive? Although I like being alive. Let me start with that. If I could be someone else, Branch Rickey.
Your favorite food/drink:
JM: My favorite food to eat is Mexican food, but it kills me, and I can't eat it. So my favorite food that I can eat is Italian. Just anything Italian.