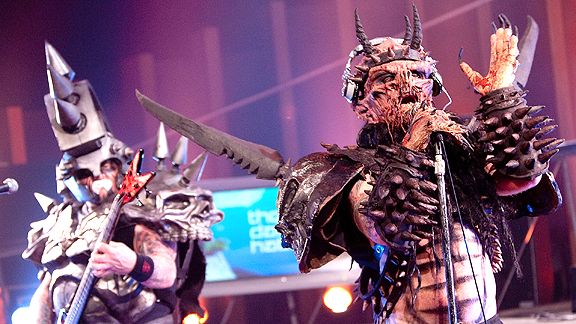 Tiffany Rose/WireImageDave Brockie (right) is known as Oderus Urungus of metal band Gwar, which is from Richmond, Va.
Dave Brockie isn't always Dave Brockie. Often -- mostly on stage, sometimes even on Fox News -- he's Oderus Urungus, the not-from-this-world vocalist for the famously (infamously?) costume-wearing, blood-spraying metal band Gwar.
But Brockie is happy to drop character when talking sports. Especially this week. That's because he and the band live in Richmond, Va., his alma mater is Virginia Commonwealth University, and those Richmond-based Rams have reached their first men's basketball Final Four after beating No. 1-seeded Kansas last Sunday.
"We're pretty stoked," Brockie said by phone Tuesday. "This is an amazing thing."
Part of it is school spirit. Another part's a Richmond thing, as artsy, public VCU (where the Grammy-nominated band formed back in the mid-1980s) often plays working-class rival to the small, private University of Richmond -- whose students sometimes chant "white collar, blue collar" at Rams fans but whose basketball team lost to Kansas in this year's Sweet Sixteen.
"It gives us sports-bar bragging rights for the rest of our lives," Brockie said.
But for Brockie this goes beyond college pride. Growing up in the D.C. area, the future metal legend loved the Redskins. Still does. But these days he doesn't have much faith in the oft-struggling franchise, saying "us Redskins fans are starting to cast about" because "we realize it's never going to change as long as Dan Snyder walks this earth as our owner."
Yeah, that'll be a while.
Enter the Rams. No, Brockie isn't a big basketball guy, but he got excited back in 2009 when the team hired head coach Shaka Smart. Unsurprisingly this run has done nothing to kill that buzz -- even if last Sunday's game pulled him away from work (Gwar is amid a two-year 25th-anniversary "Slay-A-Bration" ... and yes, Brockie is aware of the fuzzy numbers).
Brockie again will skip the studio Saturday, and watch VCU-Butler at the nearby Village Cafe. Should the Rams win -- and he thinks they will -- the singer expects to join a non-metal mosh pit in the streets of Richmond. Heck, he might even do it as Oderus -- although "I would have to have at least three or four undercover security people keeping an eye out for me," he said, because "you can be pretty vulnerable when you're in a costume where you can't see anything and barely move."
Either way, when the band hits the studio for its next album (Brockie says that might happen in 2012), Brockie/Oderus might just drop a Rams reference into one of Gwar's decidedly un-sportsy songs.
"I could see it," Brockie said. "They have to win the whole thing, though. No Final Four. They've got to be the one."