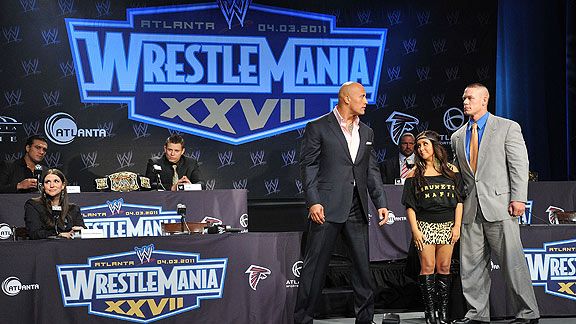 Mike Coppola/Getty ImagesThe Rock, Snooki, and John Cena at the WrestleMania XXVII press conference at the Hard Rock Cafe.
Hundreds of WWE fans, mostly male twentysomethings, waited eagerly in a line outside of the Hard Rock Cafe in Times Square for the WrestleMania XXVII press conference to begin on Wednesday afternoon. One thing was clear: while MTV's headquarters was just around the corner on Broadway, if there were "Jersey Shore" fans here to see Snooki, they certainly weren't about to admit it. This day was about the return of The Rock.
Inside, rock music blared over the speakers, while fans packed around the standing room only balcony, yelled chants of "Undertaker" while others screamed for Triple H. Then there were chants of "Cena sucks!" and "Rocky!" If I didn't double-check my media tip sheet to make sure it read "press conference," I would have been certain I was about to seem someone throw down. But alas, there was no match inside, no knockouts, no grappling and no blood.
There was, of course, drama -- and most importantly for April 3rd's WrestleMania XXVII at the Georgia Dome in Atlanta, there were plenty of storylines for every fan:
• The teenage reality star fan. What was Snooki doing here? She's wrestling now? I thought she was in Italy filming "Jersey Shore?" I bet she'll pull someone's extensions out.
• The movie buff or longtime WWE fan. The Rock is back! Does this mean we don't have to call him Dwayne Johnson anymore? Guess this means no "Tooth Fairy" sequel?
• The die-hard WWE aficionado. Triple H is making his impressive 15th WrestleMania appearance to face off against Undertaker and his 18-0 win streak! And Edge will square off against Alberto Del Rio in a fight for the World Heavyweight Championship title!
Oh, yes, there was drama for everyone.
It's a mistake to call this a press conference. Although there were reporters, cameramen and photographers, let's make it clear: this was no typical press conference. The first speaker, emcee Michael Cole, was greeted with the wrath of hundreds of boos. As he tried desperately and frustratingly get through his introduction, the microphones and speakers were no competition for the roar of the rowdy crowd. Whenever the name "John Cena" was uttered, there was a fury of boos. "Undertaker" solicited cheers, "The Rock" was met by more.