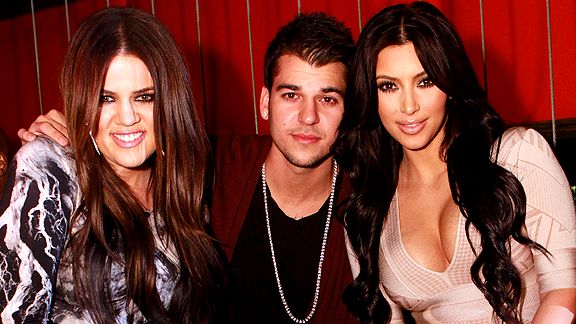 Jacob Andrzejczak/WireImageRob Kardashian is flanked by sisters Khloe and Kim at his 24th birthday party in Las Vegas recently.
"I had to stop the video game I was playing just to talk to you."
That's Rob Kardashian's life. Seriously.
The only brother of the Kardashian clan and a co-star on all those reality shows had to put down his gaming system to talk about his new venture -- wait for it -- playing video games online.
Yep.
"I'm like a lot of people in that I play video games all the time," said Kardashian, who recently celebrated his 24th birthday two weeks ago. "And now I'm working with a company where you can win cash and prizes while playing video games."
Kardashian has partnered with Rivalspot Sports Entertainment to create a portal for console gamers to go head-to-head on Playstation 3 and Xbox 360 and wager cash. Using proprietary tools, Rivalspot.com lets gamers challenge and compete against each other, and after the games' scores are reported back, the money is paid out to the winner.
"I've always loved video games and this is a perfect opportunity for me to use my business degree," said Kardashian, who graduated from the University of Southern California's Marshall School of Business in 2009. "As you know, I play video games pretty much all day, so this is a way for people actually to make money doing it."
To help promote the new venture, Kardashian is heading out to Houston to host a Rivalspot.com party Friday night at 5th Amendment bar downtown. He'll be mingling with the party crowd while challenging fans in NCAA and NBA 2K11 wars on Xbox360 throughout the night.
"This is going to be pretty awesome," said Kardashian, who is traveling after having his appendix removed a week ago. "It's not like the gaming laws back in the day. This is pretty awesome. This is all legal. You're going to see athletes and celebrities playing alongside everyday video game fans."