With apologies to author Richard Connell -- oh, and also Ice-T and Gary Busey in "Surviving the Game" -- the world's most dangerous game isn't man hunting man for perverse sport.
It's man elbowing, kneeing and tripping man -- or just plain landing funny -- in pickup basketball.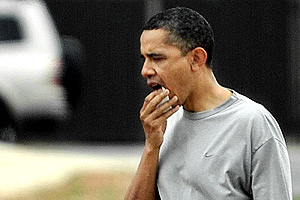 TIM SLOAN/AFP/Getty ImagesEven U.S. presidents aren't immune to the dangers of pickup basketball.
Case in point? Free-agent quarterback Chad Pennington, who tore his anterior cruciate ligament in a pickup game and will undergo surgery next week, an injury that possibly will end his pro football career. Of course, when it comes to the playground being less heaven then ER, Pennington is hardly alone. Page 2 takes a quick look at other athletes who were hurt while hooping it up:
Zack Greinke
The Milwaukee Brewers' prized offseason acquisition suffered a hairline fracture in one of his ribs while going up for a rebound in a February pickup game and began the current season on the disabled list. Said the ace pitcher: "Everyone always told me not to do it because I was going to get hurt. It finally caught up to me."
Aaron Boone
The former MLB player -- and current ESPN television analyst -- hit a dramatic, series-winning home run for the New York Yankees against the Boston Red Sox in the 2003 American League Championship Series; during the subsequent offseason, he tore a knee ligament playing pickup, in violation of his contract, and was cut by the Yankees, who graciously replaced him with Alex Rodriguez.
Denny Hamlin
The NASCAR driver suffered a painful hip injury after falling during a 2008 pickup game; two years later, Hamlin tore the anterior cruciate ligament in his left knee playing basketball at a Charlotte gym, an injury that forced him to get reconstructive surgery after the first six races of the 2010 season. Said Hamlin following the first injury: "I'd like to say I was going up for a dunk, but I think everybody knows that ain't true."