During his rookie season with the New England Patriots in 2010, punter Zoltan Mesko faced an unexpected challenge. It wasn't so much the opponents' rush but instead the new life he was living. He'd arrive at the stadium daily at 6:30 a.m. and sometimes wouldn't leave until 6 p.m. or later.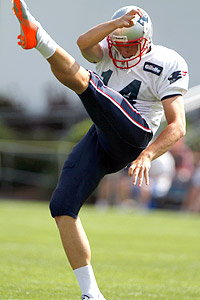 AP Photo/Steven SenneAt a time when he would normally be working out in New England with teammates, Mesko is sitting at a desk working for Graham Partners, a Philadephia-based private equity firm.
It was all football all the time.
In one sense, that was a good thing because it allowed him to sharpen his skills in a career that he hopes lasts decades. Yet he saw danger in it as well.
"If I had a bad practice, after a 10-hour day, I'm going home and I have nothing else to think about. At Michigan, if I had a bad practice, I might have to go to class in a half hour, and you forget about it," Mesko said. "Last fall, I had to find something that took my mind off football, because an overload in anything is not good for you."
So Mesko, who was born in Romania, speaks five languages and was dubbed the "most interesting man in the NFL" last year by The Wall Street Journal, wrote a new page in his personal playbook. He started day trading and reading business books.
And now, at a time when he would normally be working out with Patriots teammates at Gillette Stadium but is prohibited from doing so because of the NFL lockout, Mesko has put his best foot forward with a new team -- Graham Partners, a Philadelphia-based private equity firm.