OK, I'm sure you're looking at the photo below instead of the video clip above.
Those are the feet of ABC's "Dancing with the Stars" contestant Wendy Williams.
Yuck.
That's what happens when you dance six days a week for about six hours a day.
And it probably was the reason she bombed on Monday night's episode. Williams and partner Tony Dovolani scored 15 out of 30 possible points. They had the lowest score out of the 10 remaining couples.
Surprisingly, actor Romeo and boxing legend Sugar Ray Leonard each scored 20s to also finish in the bottom three.
If the public voting goes the way it has on previous shows, one of those three -- and not Kirstie Alley, who fell with Maks Chmerkovskiy -- will be sent home.
The other two athletes -- Chris Jericho and Hines Ward -- looked more fluid and should easily survive.
But watch for Williams to be sent packing.
She and Dovolani danced the foxtrot to "Last Night a DJ Saved My Life."
Will the public help save her from being eliminated?
One judge said, "At times it looked like you put down roots."
Ward knows how Williams is feeling about wearing tight shoes and dancing for hours in practice.
"My feet do hurt being on them all day in those dancing shoes," he said. "I feel sorry for women who are forced to wear high heels."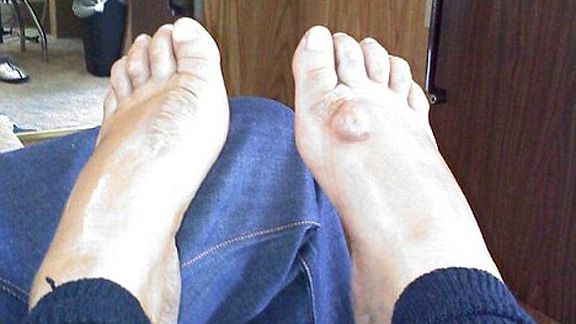 Courtesy of Wendy WilliamsTalk show host Wendy Williams sent out this photo of her feet on Twitter. Yuck, I say.