From the Department of No, Really, I bring you the following dispatch: Tennis star Serena Williams just moved up to No. 10 in the WTA rankings.
Yes, that would be the same Serena Williams who hasn't played a match -- not a single one -- since winning last year's Wimbledon. Who has suffered a frightening pulmonary embolism and endured two operations on an injured foot in the interim. Who has no idea if or when she'll return to the court. Who recently tweeted "umm ... why am I watching Sponge Bob?"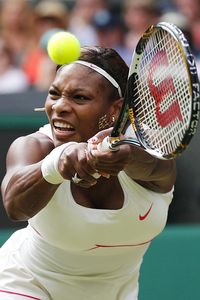 AP Photo/Anja NiedringhausHow good is Serena Williams? She doesn't even need to play to move up in the WTA rankings.
The same Serena who somehow jumped two spots in the rankings to become the only American, male or female, ranked in tennis' top 10. To borrow from Prince: Something in the water does not compute.
Look, I get it: The WTA rankings are based on a rolling, 52-week cumulative point system. Williams amassed a ton of points before she was sidelined. Players ahead of her in the rankings -- sister Venus and Marion Bartoli -- have lost points. The rankings are complex and nuanced and designed to reward sustained excellence without unduly punishing injured players ... blah blah blah. I really do get it.
I just don't care.
As a tennis fan with working eyes, I know that Serena is the best player in the world when healthy. And motivated. Right now, at least one of those things is missing. So a No. 10 ranking seems reasonable. What doesn't seem reasonable is moving up in the rankings without touching a racket for more than half a year. No matter how the system supposedly works.
It's one thing for, say, Ohio State to move up in the AP football poll because the Buckeyes had an off week and the teams ahead of them lost; it's another thing entirely for the Buckeyes to get a bump after sitting out the first five games of the year. Sports rankings shouldn't appreciate through passivity, rewarding a sit-and-hold strategy. If they function that way, then what's the point of playing games and keeping score in the first place?
Getting ahead by doing absolutely nothing is best left to the idle rich. Not athletes. Heck, even Max Bialystock had to go to the trouble of putting on a horrendous musical to turn a profit. Nothing against Williams -- or the WTA -- but when you can get closer to the peak without leaving base camp, it's the kind of thing that can't be understood. No matter how much it makes sense.