Go way back to baseball's steroids era, and the news every spring was about how certain players got bigger over the offseason. These days, the news is about how they're getting smaller. The question now is, will less be more? Before last season, Cubs catcher Geovany Soto dropped 40 pounds and boosted his batting average 62 points. Can a Panda do the same thing in 2011? Some of this offseason's biggest losers: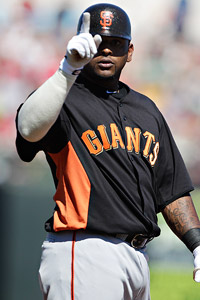 AP Photo/Lenny IgnelziPablo Sandoval has lost 40 pounds since the end of last season.
Pablo Sandoval, Giants -- Kung Fu Panda morphed into Giant Panda last year, despite the team's "Operation Panda" fitness camp in the months following the 2009 season. In the 2010 season, Sandoval gained girth and lost his third-base job. He's now dropped 40 pounds since the end of last season, to 240, thanks to a diet and a personal trainer. "That's not Mr. Universe, but it's a long way from where he was," one trainer told reporters. His body fat is down from 30 percent to 19. He cut out his favorite foods -- no more cornbread, ice cream and arepa (bread) from his native Venezuela. He says when he looks at his portly Giants bobblehead, "He doesn't look like me anymore."
CC Sabathia, Yankees -- The New York ace dropped 25 pounds, from 315 to 290, since October. When he was asked in spring training how he did it, he said: "Not eating Cap'n Crunch every day. I used to eat that stuff by the box." He went on David Letterman's show this winter and said, "I always worked out, but I went to McDonald's afterward."
Melky Cabrera, Royals -- The Kansas City outfielder is down 20 pounds from the end of last season, to 200. His production dropped severely in 2010 with Atlanta, and Cabrera says he knew he needed to change. He worked out every day and changed his diet. "No more Dominican food," he told reporters. "Every morning, egg whites. Milk, a lot of water, chicken, fish."