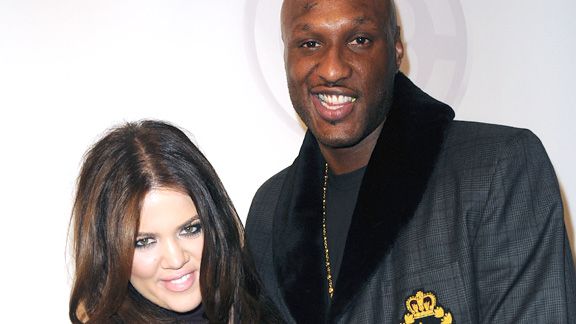 Scott Kirkland/Getty ImagesKhloe and Lamar have always been in front of the camera, so why not get paid for it?
Khloe Kardashian joined ESPN Radio in LA with Mason and Ireland to talk about her new show "Khloe and Lamar."
Was there an agreement that the show had to wrapped before the NBA playoffs?
"Yes. I made that rule. I don't want Lamar ... whenever Lamar ... I tell him to tell me if he is too tired from practice or if he has two back-to-back games and he needs rests. I tell him to tell me. I will make sure they [television cameras] will follow me around. I don't ever want this [the show] to compete with his big, main focus, job. This is just supposed to be a little fun thing for him. It's not supposed to be stressful or anything that's too much for him to handle. He has to just give me the look and I'll make them stop filming."
Why does your name come up first on the television show? How do you assert yourself as "the boss"in the relationship?
"Because I'm the boss. No I just think Lamar knows how to let me feel like I'm the boss, but Lamar and I, love and adore to death, but if I wasn't there to tell Lamar you have practice at this time. I have to wake him up every morning. He would just ... he's not someone that's very prompt all the time. That's why he always calls me 'the boss.' I'm always bossing him around."
How sloppy is Lamar Odom?
"He is a ... honestly I've never met someone as sloppy and slobbish as he is. I understand it when he gives me his reason. He's been in the league and this is his 12th season and you know he's use to being in hotels and traveling and everyone cleans up after him. When he's at home he's just use to throwing things and taking one shoe off there and one shoe off here, but like he will literally open the refrigerator and than not shut it. I don't understand. He just takes milk and leaves it out on the counter. He just like could care less."
• Click here for a transcript of highlights from the interview, including Barkley's thoughts on the Carmelo Anthony trade.