The Barry Bonds trial, in which closing arguments will be heard Thursday, has provided a little bit of everything: intrigue, investigations, conspiracy theories and a dash of titillation. The Bonds story might also be told through the titles of some popular sports books: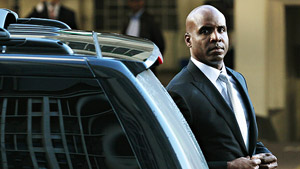 Justin Sullivan/Getty ImagesThinking of writing a book about Barry Bonds?
All the best titles have already been taken.
"No Cheering in the Press Box": The tale of how the baseball press corps reacted as the prickly Bonds assaulted and surpassed every home run record.
"The Natural": A look at how Bonds burst into the big leagues with the ability to hit, hit with power, run and field with the best in the game.
"Dollar Sign on the Muscle": An investigation into baseball's steroid era.
"Men at Work": The Bonds entourage -- trainers, lawyers, accountants and personal assistants -- and their behind-the-scenes duties.
"Fever Pitch": The story of federal investigators and their unflagging pursuit of Bonds.
"The Blind Side": How fans, players and media failed to acknowledge the era of puffed-up, power-hitting/power-pitching players.
"Into Thin Air": Where Bonds' playing prospects went after his contract with the Giants expired in 2007.