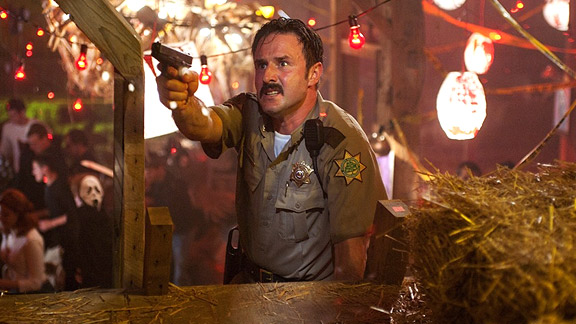 Courtesy of David ArquetteDavid Arquette is back at Sheriff "Dewey" in Scream 4, which opens next week.
Snooki's appearance Sunday night at Wrestlemania in Atlanta didn't kill World Wrestling Entertainment.
And David Arquette's wrestling title in 2000 didn't kill World Championship Wrestling, as some people say.
Let's go back in time: Arquette, after filming the WCW-produced movie "Ready to Rumble," was brought into WCW storylines and won the title on April 26 and held it for two weeks. Many wrestling purists -- and that's funny even saying -- have said that gimmick began the downfall of the WCW, which eventually was bought out by the WWE.
"It was surreal. To be able to be a part of that world and be a fly on the wall and see the workings of the circus, it was a dream come true," said Arquette, who holds no ill will toward the critics and has made a few appearances at WWE shows. "I know people joke about the guy from Hollywood winning the title, but I have nothing but respect for wrestlers. I got a chance to live in their world. It was an opportunity be play cops and robbers as grownups."
And Arquette is back playing a cop himself as he returns as Sheriff "Dewey" Riley in "Scream 4," which comes out next week. Sidney Prescott (Neve Campbell) returns to her hometown on the 15th anniversary of the first murders for a tour of her new self-help book. With her return also comes the return of slasher-killer Ghostface.
And Arquette has spent the past few months battling his own demons. He is still separated from his wife of 11 years, Courteney Cox. He recently left rehab for substance abuse. And he still is recovering from a head-on car accident from a few weeks ago.
"Rehab allowed me to take a real hard look at my life and I think I've finally become honest with myself," said Arquette, who has been acting for 20 years. "I now realize how delicate life is and it's really important to take everything slowly. I'm learning to make the right decisions."
Arquette knows he's in the public eye and doesn't want people feeling sorry for him. He also has been watching from the outside the freak show of actor and friend Charlie Sheen, who is traveling the nation spreading his message of "My Violent Torpedo of Truth."
"I'm in no position to judge. As far as what he does, that's up to him. I can really only worry about myself," Arquette said. "I'm trying to be the best person I can be. I feel good about waking up. When I go to bed now, I feel pretty happy with what I've done for the day."