When the pencil you use has its own Twitter account, you're left with little choice but to embrace social media.
But even before fan Twitter account @Sunny_2Pencil began "making roster moves and lineup shakes," Oklahoma coach Sunny Golloway had a rather enlightened view of the medium.
"Our message doesn't change, whether we're talking about drunk driving or using the latest technology," explained the coach. "[The players] are young and they're going to make mistakes. But I tell them at the end of every practice, 'Take care of the program tonight.' Accept and embrace being a part of the program.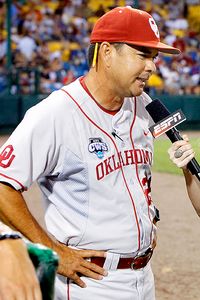 Ty RussellCoach Sunny Golloway's pencil is always close to the action.
"When we recruit, we try to educate the players. When you're in high school, you represent your family. Now the family you represent is much larger. You don't want to lash out -- whether it's in a restaurant or online. And when it's printed, it's hard for it to go away."
Of course, one of the dangers of social media is posting an off-the-cuff remark in the heat of the moment -- and unlike what's said in the privacy of a dorm room, it's instantly seen around the world. And while the Sooners baseball team encourages its players to tweet as a way of creating awareness for the program and connecting with fans, according to sports information director Craig Moran there are clear guidelines.
"Technology is changing so fast, it's hard to implement policies. There's always the potential to make a mistake when you wear your feelings on your sleeve, as we all do," Golloway said. "All of the coaches are educated [on social media] from the administration and support staff, and it's highly monitored. But there isn't a set policy across the board; coaches are left to decide how to handle it."
Juniors Caleb Bushyhead and Tyler Ogle agreed that they're well aware of what's expected of them on and off the field. For both, the positives far outweigh the negatives.
"I've already had quite a few fans tell me they appreciate it and feel like they're able to get closer to the players," Bushyhead wrote, via Twitter, during a recent interview. (See below for the full transcript.)
While a number of Golloway's players are on Twitter, he has shied away from social media.
"I'm a private person. I tried Facebook for a week, but I didn't have a lot of time," Golloway explained. "I'll let the pencil handle it for both of us."