If you put on a great fight, they will come.
That's Oscar De La Hoya's theory, anyway.
Still, the 10-time World Champion and Olympic Hall of Fame boxer can't deny that since his buddy Mark Wahlberg's film "The Fighter" came off of a nice Oscar run, he's seen a jolt to the boxing industry.
"We've had a really tremendous spike, like in ticket sales and pay-per-view buys and the ratings on HBO. It's actually incredible," De La Hoya says. "Our last fight, we broke records -- both ratings on HBO and ticket sales."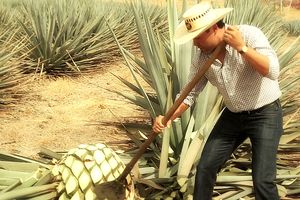 Golden Boy Productions Oscar De La Hoya tends to an agave plant at the
Tres Generaciones distillery in Tequila, Jalisco.
That said, he thinks it's bigger than Hollywood. De La Hoya's Golden Boy Promotions company is putting on a four-bout "Action Heroes" card Saturday night on HBO pay-per-view, headlined by Erik Morales and Marcos Maidana in the main event. The undercard features Robert Guerrero against Michael Katsidis.
De La Hoya recently traveled to the town of Tequila in Jalisco, Mexico, for a tasting excursion at the Tres Generaciones distillery, where he fulfilled requests from villagers who wanted to take photos and knuckle-up next to the boxer.
"People have more admiration for me here in Mexico because I'm of Mexican descent, but it also has to do with respect," De La Hoya said. "They want to make that famous pose as a fighter, and they want to live that moment, because it's respect. I've worked years to garner that."
That, he says, is further proof that people love boxing because it's the accessible sport.
"Boxing will always be boxing. You can have the most powerful, richest man in the world admiring two fighters who step inside the ring. You can also have the most humble person on the face of this earth loving the fight game, and that's what boxing's all about," he said. "I call boxing the poor man's sport, because first of all, most of the fighters come from very humble beginnings, and I think the wealthiest of people or the upper, high-class people, even middle-class people, kind of admire the hard work we go through."