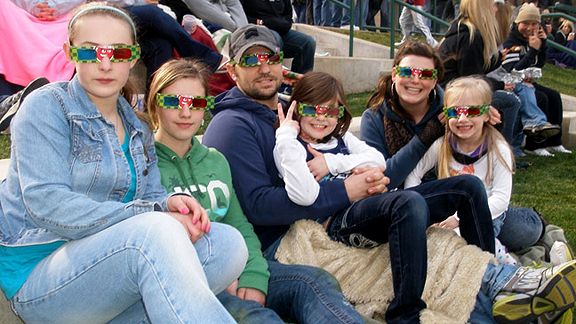 Courtesy of Jack McCarthyWill and Alicia Rollings and other family members show off their 3-D glasses at the TinCaps' game.
FORT WAYNE, Ind. -- Opening night was yet another minor-league baseball shtick -- in this case, technology met tradition.
When the Class A TinCaps kicked off their season in early April, fans wore an unusual accessory -- green-checkered cardboard glasses with one red lens and one blue. The payoff was having the oversized team logo -- among other things -- jump into fans' laps.
"I thought it was really cool. It really popped out at you," said 11-year-old Becca Rollings from her perch in right field just below the board. "I've seen it in movies, but never expected this."
The fans, wearing 3-D glasses under their baseball caps, saw seven images, including the cap shuffle and team mascot -- a bright red apple with a punkish grin and a pan for a cap -- hover before them.
The team distributed more than 6,000 pairs of glasses along with the official game program, which featured a 3-D image of the TinCap's mascot and a 3-D giveaway poster.
Believed to be the first time that high-tech features have met old-school sports in the United States, this latest addition to minor-league ball's bag of promotional tricks was a hit among fans.
"It's a new experience and something we haven't seen yet," said Will Rollings, a Fort Wayne business owner who brought family members to the game. "This is good, though. First game of the year, it's kind of an experience for everybody."
The video monitor at Parkview Field is 26-by-58 feet and team officials said the board was the second largest in the minors when the park opened in 2009.
The video board, essentially a super-size television, offered no unusual challenges.
"It's pretty straightforward," said Patrick Devine, partner/producer at Ft. Wayne-based PunchFilms, which developed the 3-D content. "A screen's a screen. There wasn't a technological obstacle there, other that how was it going to play."
The TinCaps wanted a special attraction for their third season opener at Parkview.
"We wanted to add another dimension to the experience at the ballpark," said Michael Limmer, the team's vice president of marketing and promotions.
Like other minor league baseball teams, the TinCaps are prolific when it comes to promotion -- they often have fireworks, Jake the Diamond Dog, Myron Noodleman, BirdZerk and other popular attractions on the Midwest minor-league circuit.
Opening night was no different -- the TinCaps also hedged their bets with $1 beer night.