This time of year -- with the NBA regular season (finally!) ending and the baseball season just beginning, it's obvious what we're all thinking about: Olympic news!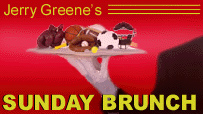 Let's start with the 2014 Sochi Games. We'll take "Where in the World is Sochi?" for $200, Alex. That would be Russia, not where I would want to put the Olympics. And, unfortunately, the Sochi Games are $200 million short right now. That's a lot of car washes and bake sales.
Jumping ahead to the 2018 Games, three areas are bidding for them. Pyeongchang pledged $500 million to teach the world how to spell Pyeongchang, while Munich, Germany, promised "financial strength," and Annecy, France, promptly surrendered.
That's been your Olympic news. Now a few more assorted thoughts before we get to the main dishes in today's Brunch:
• Has "Fiesta Night" been canceled at the Pink Cabaret in Glendale?
• Apparently Ben Roethlisberger wanted the Pittsburgh Penguins' arena for his wedding reception but it was already booked by the WWE. Wait a second. Ben's wedding party and the WWE? Sounds like a match to me.