NEW YORK -- It was around the sixth kilometer at the Scotland Run 10K in Central Park on Sunday when Mike Hill began to hear crickets.
But they weren't crickets.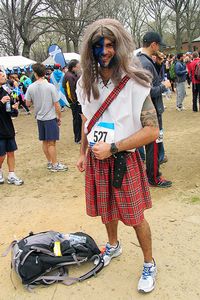 Ken Derry for ESPN.comCarlos Lopez evokes William Wallace of "Braveheart" at the eighth annual Scottish Run in New York's Central Park.
It was the sound of his upper legs chafing, and he will forever refer to the experience as "kilt thighs."
Hill, 43, was one of the many runners racing along the outer loop in a kilt, in a show of tartan solidarity during New York's Tartan Week festivities -- but he had failed to take the necessary precautions.
"There's rubbing where guys don't usually experience rubbing," said Hill, who lives in Brooklyn. He finished in 43:22.
For anyone considering running in a kilt, Hill recommended a generous application of anti-chafing balm, plus a lightweight fabric with sewn-down pleats to correct against any surprise breezes.
This year marks the 300th anniversary of the birth of David Hume, a Scotsman and revered philosopher. The occasion probably was lost on most of the nearly 8,500 runners, but no matter. Everyone can be Scottish for a day, and the New York Road Runners partnered with the Scottish government to create such an event for the eighth consecutive year.
"The Scotland Run is highly competitive up front, but it's so appealing to all kinds of runners," said Mary Wittenberg, president and CEO of NYRR. "There is such lore to Scotland and the Scottish culture. And I think the whole idea of a man in a skirt is fun and intriguing for Americans."
Kumsa Adugna Megersa, 24, from the Bronx, set a Scotland Run record by crossing the finish line in 29:33, two seconds faster than the previous mark, set last year. Unfortunately, he did not wear a kilt.